Award Winning Faculty
The faculty members of the Department of History & Political Science have distinguished themselves as a group of outstanding teaching scholars.
Low Faculty to Student Ratio
Unique opportunities to work closely with professors
Highest number of books published
Top-ten department for highest number of books published per faculty member among public midwestern universities
The Department of History and Political Science, with its award-winning teaching-scholars, provides unique research and learning opportunities that prepare students for the jobs of the future. In addition to the traditional Bachelor of Arts degree, the department offers the only Bachelor of Science in History in the University of Missouri System, allowing students to combine their interests in science, engineering, and the human experience. We are also the only department in the state of Missouri that provides secondary school teachers with a full degree in History as well as teacher certification. Students have the opportunity to engage in guided research with professors beginning in their first year and complete the program with a capstone senior project that reflects their education as well as their future career aspirations. History majors have access to a state-of-the art research communication lab, the Collaboratory, which provides them with a hands-on space to combine the study of the past with the digital skills necessary to create and share knowledge in today's technology-centered world. The department's strengths in the history and policy of science, technology, warfare, and social history contribute to S&T's focus on STEM education, military-related research, and the interdisciplinary field of Science, Technology, and Society.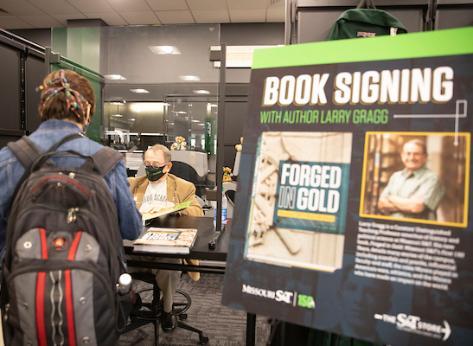 A New History of the University
For Missouri S&T's 150th anniversary, Professor Larry Gragg has published a history of our university, tracing its growth since its founding as the Missouri School of Mines in 1870. "Among the many topics I cover in Forged in Gold, I am most pleased with the chapter 'Miner Students,'" says Professor Gragg. "I am able to show both the changes and continuities in student life on campus over time with a focus on both the rigor of the curriculum and the evidence of student and alumni success."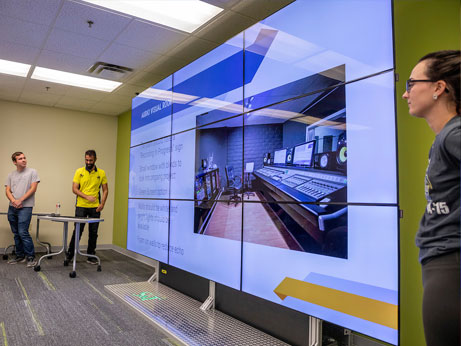 The Collaboratory
At Missouri S&T, students participate in hands-on, real-world experiences as part of their education. The newest opportunity for History and Political Science students to engage with the past using modern technology is through the Collaboratory. This state-of-the-art research lab allows students to combine knowledge from the humanities and social sciences with digital skills to address complex problems facing today's society.

Prize Recognizes Military History
"Cutting edge research makes for a rich educational experience," says Dr. John McManus, winner of the Gilder Lehrman Prize for Military History in 2020. "I bring the research I conducted for Fire and Fortitude and my other books to life for students in courses I teach," notes Dr. McManus. His scholarship "will have a lasting influence on the intellectual development of our students," says Dr. Mohammad Dehghani, chancellor of Missouri S&T, showing graduates how wars can "influence the global challenges that now often come with their careers." Watch an interview with Dr. McManus here or here.
Are you a current student?
Are you a current student and interested in History or Political Science? Signup to receive more information and news updates.